Looking for Houston's Favorite Family-Operated AC Repair Company?
We provide the friendly and affordable air conditioning repair service Houston deserves.
Our Awesome Houston AC Repair Services
Houston's Premier Indoor Comfort Solutions
Air Conditioning
AC problems? No sweat! Beat the hot Houston heat with our affordable AC repair solutions.
Heating
Crank up the heat with our awesome indoor heating services and say goodbye Houston's chilly winters.
Indoor Air Quality
Is cleaner and healthier air a concern in your home? Check out our indoor air quality improvements.
Home Ventilation
Is your home being properly ventilated? Our whole home ventilators can make that happen!
Humidity Control
Just because Houston's muggy outside, doesn't mean it has to be that way inside your home.
Ductless HVAC
Do you have a ductless home improvement project you need help with? No problem!
Ductwork
At Adams Air we prioritize proper air flow and air distribution.
Smart Thermostats
Smart thermostats bring a whole new level of control and functionality to any HVAC system.
Residential
Our fast and affordable residential HVAC service just can't be beat!
Commercial
Yeah, we can fix that too! Our commercial service knows no bounds!
Repairs
At Adams Air, repairing your HVAC equipment is always an option.
HVAC Design
Our HVAC designs have been keeping Houston cool and comfortable for over 30 years!
Maintenance
From one time tune-ups, to planned and seasonal service agreements, we provide the preventative actions you and your HVAC equipment deserve.
Installation
Are you installing new HVAC equipment? Save tons when you choose Adams Air!
24 Hour Service
We provide around the clock service that never sleeps, so you can.
Having an Air Conditioning Problem? Try our Free
AC Diagnostics and Repair App
Our free web app can help you Find and Fix your own AC Repair Problems!
Start Now
Current Promotions
Save $20.00 off our service charge when you schedule online!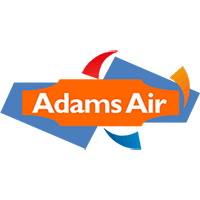 Our mission is simple: Provide the best air conditioning and heating repair service Houston has ever seen with a price-tag that any Houstonian can afford.

Family-Operated Service: Adams Air is a small family-owned and operated AC repair company that's dedicated to providing Houston homes and businesses with world-class AC service at small-company prices. We keep our overhead small by doing just about everything ourselves - From answering the phones and zipping around town to provide AC repairs, to installing our own AC equipment and everything else in between.

Family-Operated Prices: When you choose Adams Air for any of your Houston AC needs, you get an Adams family member from the start of your project to the very end and by doing so we get to extend our savings directly to our customers. This allows us to focus on the things that matter most: Our cleints and saving them time, money and headaches. Simply put: Our family is thankful for our clients and treats them that way. We take pride in providing a fast, friendly and family-operated AC repair service that you just can't get anywhere else.

The Difference Is: Our family wants your business and we value our clients needs and we understand every home is different and every budget is different, so every solution is different. We're confident you'll appreciate our small business approach and we're confident we can supply the results your looking to achieve with any of your HVAC projects no matter how big or small they may be. We want to be your reliable number one choice for anything Houston HVAC related for as long as you call Houston home and we're going to treat you that way by providing you the fair and honest air conditioning service you and your family or business deserve. So if your looking for an HVAC contractor that prioritizes your comfort, satisfaction and your budget, look no further, our unmatched service just can't be beat!
Do you really provide 24 hour AC repairs and serivce?
Yep. We are Houston homeowners and business owners too, and we know how important air conditioning is in our city's hot and humid Texas climate. That's why we know how important it is to connect you with an on-call Adams Air technician 24 hours a day, 7 days a week, 365 days a year.
So even if I work late you can repair my AC system during the night?
No matter what time of day - If your AC system is giving you problems, rest assured our family of seasoned Houston HVAC technicians come to your home well-prepared and stocked with a small warehouse of parts and the latest diagnostics equipment to quickly pinpoint your problems and make repairs on the spot.
We are always available to answer any questions you may have about your AC system and can often diagnose and solve problems over the phone and we do that because we take pride in providing the kind of service you just can't find anywhere else and because we want to earn your business through extraordinary service and have you call back when you really need a professional.
So if I have a general question or can't figure out what I am doing wrong I can call you guys? Like a technical support hotline?
Yep. People call all the time and we provide solutions to problems they are having right over the phone, free of charge. Also, our website is full of helpful tips that lend a hand at helping you solve most minor AC problems that we feel just about anyone can fix themselves and we even have a free AC diagnostics web app you can use to locate and resolve many of your own issues. So feel free to look around, soak up the knowledge and explore our Houston HVAC blog and articles and learn all about your Houston AC system. If you still need help with any of your AC problems just remember we provide outstanding around-the-clock service for all your Houston air conditioning and heating needs.
What sets Adams Air apart from the pack?
The difference is: We know Houston and we're a family of people fascinated and passionate about air conditioning, solving problems and providing helpful learning experiences by sharing knowledge and heat transfer solutions.
What is your approach to HVAC?
Through-out the years servicing the AC capital of the world, Houston TX, we noticed many of our clients often taking the time to explain to us how after watching us make the repairs they needed, that they could have fixed their own AC problems if they only had known how before they had to give us a call. And we agree!
At Adams Air we feel as though the HVAC trade is far too often given a negative connotation - No one's ever happy to see the AC guy show up at their front door anymore because so many people have been taken advantage of by so many air conditioning companies and HVAC contractors. It always seems that out of all the home contractor trades, the AC guy is the last one people tend to trust and unfortunately many of our clients have confirmed this to us by explaining how they have been taken advantage of in the past by an HVAC contractor in one way or another. So at here at Adams Air we are all about sharing HVAC knowledge, because it seems like there just isn't enough of that going on out there and there just isn't enough information for people to compare to and learn from without first making costly mistakes.

HVAC is no secret! And it's definitely not magic.. What we do as HVAC technicians can easily be misunderstood because everything we do is invisible - The air we condition is invisible, the heat we add or remove from homes is invisible and so our goal is to provide the missing link between the information and the unknown - By sharing knowledge, and sharing HVAC insight, we fill in the gap and eliminate the invidible grey area that allows so many homeowners to be taken advantage of by other HVAC contractors out there and encourages people to share the things they're passionate about as well.

Since we love what we do, we don't like the negative connatation the residential HVAC trade has made for itself, and so we have set out to put an end to that untrustworthy reputation the HVAC trade has gained by doing things differently and providing a completely different experience that no other HVAC contractor is providing and by openly sharing HVAC information on our website, over the phone, and in our free apps. Our approach may seem a little different, but it's our way of empowering homeowners to become aware of how their HVAC system works so they can make informed decisions and it's also our way of showing our clients just how sincere we are about our way of business - Most HVAC problems can be prevented and repaired by the homeowner, but we want our clients to know we are there when they need us and where licensing and regulation are required.
We believe everyone who owns an HVAC system is more than capable of preventing 90% of their own air conditioning problems but we want to be there for the other 10% - So we have set out to provide the awesome, affordable and comprehensible AC services and solutions that every Houstonian is going to be proud of and hopefully learn from and share. We take pride in our work and we are passionate about what we do and enjoy the challenge of Houston's climate and keeping Houston families and their businesses cool and comfortable so they can get back to doing and sharing the things they're most passionate about too.

Adams Air not only provides HVAC information and HVAC service you won't find anywhere else, but we also provide free HVAC android apps and web applications to help homeowners and other AC technicians diagnose their own AC problems, which you wont find anywhere else. You can access our diagnostics web application here or download our tech-savvy Android apps to your phone by searching the google play store for "Adams Air" or by clicking here.
Did I mention we also love to fix air conditioners? Repairing your AC equipment is always an option, so if you've been given an estimate to replace a piece of your AC system and would rather have it repaired then don't hesitate to reach out for help and give us a call, you'll be thankful you did and probably learn a whole lot about your Houston HVAC system while you're at it.
100% Satisfaction
Residential
Commercial
24 Hour Service
Family Owned
Family Operated
Client-Focused
Free Estimates
Hey Houston, Texas! We're so confident in our up-front prices and services that we post them online! We aren't like some of the other guys who tell you the service call is free then turn around and charge you double for your repairs! Check it out and don't forget to combine our already low prices with our current promotions and specials for even greater HVAC savings!
R410a Freon

R410a Freon Per Pound

$45.00
R22 Freon

R22 Freon Per Pound

$100.00
HVAC Capacitors

Capacitor Repair

$85.00
Drain Repair

Unclog Drain Lines

$75.00
HVAC Maintenance

Maintenance Tune-Up

$75.00
HVAC Service

Service Call

$75.00
Our Houston Service Area
Houston Air Conditioning Blog